What Is the Difference Between Talk Therapy and Cognitive Behaviour Therapy?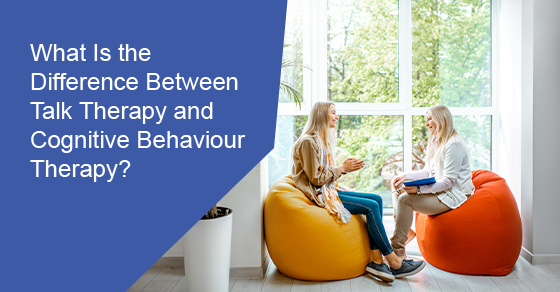 Talking about your thoughts and feelings in talk therapy can help you manage better when you feel troubled about something. We may find it helpful to talk about our problems with a friend, a life partner or a family member but sometimes that friend or family member is unable to help us and we need to seek out a professional therapist to help us. Talk therapies involve talking to someone who is trained to help you. It is important that the therapist you choose be professionally trained. A good therapist is someone who listens to you, values what you have to say and has your best interests in mind. Talk therapy gives people an opportunity to explore their thoughts and feelings and the effect it has on their mood and behaviour leading to change.
There are many different approaches to talk therapy. It can certainly be daunting to find the right therapy and the right therapist when you decide that you would like to make positive changes in your life. Choosing the right therapy is a big decision because it can be an important factor in your well-being and getting your life back on track. How can you choose the best therapy for yourself? Behind every talk therapy is a way of working with people that is meant to be helpful. Therapists who offer the same kind of therapy will have a different way of working because everyone has their own personal style!
Talk therapy also known as psychotherapy, is meant to be a safe place to discuss your thoughts, feelings and emotions leading towards making positive changes in your life by thinking, feeling or acting differently. The aim of talk therapy is to relieve distress or conflict by discussing your feelings and to promote more adaptive ways of coping. Presenting issues may be brought on by stress, a medical illness, psychological problems, psychiatric diagnoses, relationship issues, poor sleep, grief or trauma to name a few. Successful psychotherapy depends on a supportive relationship with a therapist. Once you have made the decision to reach out and seek talk therapy you want to find someone with whom you click.
It is very important to explore an evidence-based therapy, or treatment that is backed by scientific evidence. That is, studies have been conducted and research has demonstrated that a particular treatment is proven to be successful. The goal of an evidence-based therapy is to encourage the use of effective treatment and to lessen the use of ineffective treatment.
The Cognitive Behaviour Therapy model is one of the most widely used and well known of the talk therapies. This type of evidence-based psychotherapy is based on the theory that one's thoughts influence one's emotions and behaviour and sometimes one's physiology. It involves teaching people to modify their thinking to a more realistic, balanced and adaptive way bearing in mind their goals, values and aspirations. A variety of tools and techniques are used to change one's thinking, mood and behaviour.
Cognitive Behaviour Therapy helps you to become aware of your inaccurate thinking so you can view situations realistically and respond to them in more effective ways. There are effective tools and strategies to help you learn how to deal with stressful situations more productively. Many studies have shown that Cognitive Behaviour Therapy helps prevent or reduce the severity of future psychological problems.
Compared to standard talk therapy Cognitive Behaviour Therapy is often considered to be the "gold standard" of psychotherapy, that is the best standard in the field at this time. It is the most well researched form of talk therapy. No other type of talk therapy has been shown to be superior to Cognitive Behaviour Therapy in its effectiveness. Cognitive Behaviour Therapy was the first form of talk therapy tested with strict criteria. It was the first psychotherapy identified as evidence-based. It has clear research which supports it as a first line treatment for many issues.
Cognitive Behavioural Therapy has been demonstrated to be effective in more than 2,000 outcome studies. Unlike traditional talk therapy in Cognitive Behaviour Therapy active collaboration and participation with clients is emphasized. The foundation of therapy is always a solid therapeutic alliance. Together with a client an agenda is set. It is also decided together how often to meet and what to work on in between sessions. Cognitive behaviour therapists aim to provide therapy as efficiently as possible to help clients feel better as quickly as possible. Cognitive behaviour therapy may draw on a variety of strategies from other modalities within the context of a cognitive framework. For example techniques from Acceptance and Commitment Therapy, Dialectical Behavior Therapy, Interpersonal Psychotherapy, and Mindfulness-based skills may be incorporated into treatment. Cognitive Behaviour Therapy is goal oriented and values based. CBT sessions are structured. The sessions finish with an action plan for the coming week ahead.
Cognitive Behaviour Therapy is goal oriented and mostly focuses on the present. It is a time sensitive therapy. It is culturally adapted to each individual. Therapists tailor their treatment to the individual's culture, that is their spiritual orientation, gender and sexual identity. Sometimes it is a short-term therapy but sometimes the treatment takes longer depending on the issues and the challenges being treated. The aim is to help clients feel better as soon as possible. However for some challenges treatment requires more time and skills practice. Cognitive Behaviour Therapy is often a preferred form of psychotherapy because it can help you to identify and cope with specific challenges.
If you don't seem to be getting the results you want in a talk therapy it could be time to consider seeing someone else or try to change the type of therapy to an evidence-based therapy such as Cognitive Behaviour Therapy!

Leave a Comment